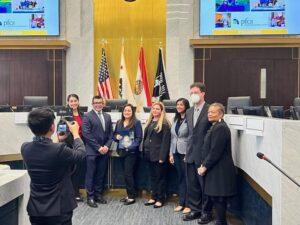 Congratulations to PFCS Employee Graciela Moreno on her selection as a recipient of the 2023 Live Well San Diego Annual Public Health Champion award.  Graciela was named as the North Inland Regional recipient.
This honor is bestowed on behalf of the Public Health Services department in the County of San Diego Health and Human Services Agency in recognition of her "extraodinary achievement in promoting the health of San Diego County residents through supporting families with finding support and resources, but also hosting events focused on bettering the health and wellness of caregivers, many who are HIspanic/Latino."
As part of the County's celebration of National Public Health Week, a special award ceremony and reception was held on Monday, April 3, to honor award recipients.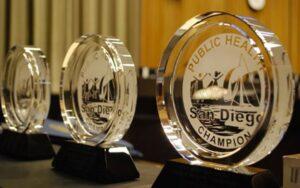 Graciela Moreno, Senior Case Manager for the Full Service Partnership program in Fallbrook and the Program Coordinator for the Grandparents Raising Grandchildren funded by the Fallbrook Regional Health District.
For over 13, Graciela  has been a change maker working for Palomar Family Counseling Services. She has helped provide resources and support to many families while working as a Case Manager and Senior Case Manager for the County funded CSED and FSP programs. Her continuous efforts and dedication earned her the position as the Program Coordinator for Palomar Family Counseling's Grandparents Raising Grandchildren Program, a new service providing support groups, case management, and educational and social events for grandparents raising their grandchildren living in Rainbow, Bonsall, Del Luz, and Fallbrook, who are unable to access the County's Kinship program. Graciela has been the key factor in the development and implementation of this service.
"I have been working with families for as long as I remember, including  working at a thrift store giving away clothing to people in need in my hometown – 'the friendly village' of Fallbrook", said Graciela. Her inspiration comes from her mother, who was also a changemaker within the community and she recalls, "my mother inspired me every day by being active in the community and dropping off coffee and Mexican bread to homeless individuals".
Graciela has been able to take this same love that she learned from her mother and share it with the rest of the community. In the Grandparents Raising Grandchildren program she identifies that she "has a great connection with families and loves providing resources that will change their lives and meet their needs. I know grandparents and grandchildren will succeed by having access to available resources. I provide valuable support to every family and do my best to guide them with respect and dignity. My future goals are to continue to work in my community with families so they can have access to available resources, maintain a positive outlook, engage in self-love, and establish community engagement".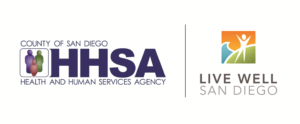 Special thanks to the County fo San Diego Health & Human Services for this incredible honor and to the Fallbrook Regional Health District for their generous support.