Before the pandemic, mental health challenges were the leading cause of poor life outcomes in young people, with up to 1 in 5 having a mental, emotional, or behavioral disorder. Two years of disruption has taken a toll, worsening mental health, particularly for people of color from low-income families.  Tragically, almost 80% of children with mental illness do not receive treatment.
Mental health challenges in children, adolescents, and young adults are real, and they are widespread.But most importantly, they are treatable, and often preventable.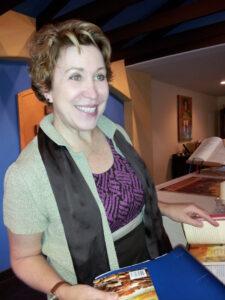 Trudy M Seifke, is an Associate Marriage Family Therapist at PFCS. This year, upon completion of her clinical exam, she will become fully licensed as a Marriage and Family Therapist in the state of CA.  She provides counseling services four days per week for 2 Middle Schools (Martin Luther King and Lincoln), and 2 Elementary Schools (Pablo Tac and Foussat).
Mrs. Seifke provides the following insights:
I work with children, individually or in small groups and help them discover more about themselves. Whether their journey includes improving their communication skills or looking inward and cultivating their own personal strengths, it is my joy to accompany them.
Grief is an emotion that is permeating our schools and our lives.  We seem to be grieving the way things used to be. Children grieve the freedom they had. Their social skills have suffered and planning time with friends is  more difficult. They grieve the loss of a relative or the loss of a parent through divorce.
Grief processing and bereavement have become an important issue to each and every one of us. After talking with the school counselors about this emerging need, I began to create and ultimately co-facilitate with a School Counselor a "Grief Group." As we are expanding the definition of grief and who is touched by this issue, the students have responded. We now have doubled the participants and it covers both lunch periods, for students in 6th, 7th, & 8th grades. We even have a pizza budget!  Among other adolescents, I am working with a weekly group of 5th grade girls who are directly inflicting different degrees of self- harm. Sadly, what typically used to show up in middle school is now emerging in our elementary schools.
Likewise, I am conducting a group of various ages of boys and girls in the elementary grades to address self-regulatory tools for inappropriately expressing anger at school and home. Our fuses seem shorter and support for the younger is needed. This is where I found my passion.
Last year I started a "safe space" lunch bunch. I'm happy to say it continues today after handing the leadership back to the students.
The infographic below identifies the factors that can shape the mental health of young people.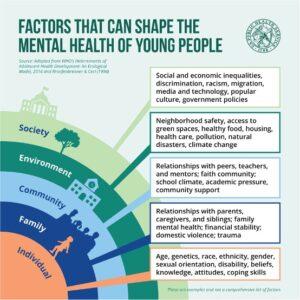 Mental health affects every aspect of our lives: how we feel about ourselves and the world; solve problems, cope withstress, and overcome challenges; build relationships and connect with others; and perform in school and throughout life. Mental health encompasses our emotional, psychological, and social wellbeing, and is an essential component ofoverall health. It is the "springboard of thinking and communication skills, learning, emotional growth, resilience andself-esteem.
If you or a family member are in need of mental health services, please do not hesitate to reach out. Call our Intake Coordinators, Monday – Friday from 8:30 a.m. – 5:00 p.m. at (760) 741-2660.