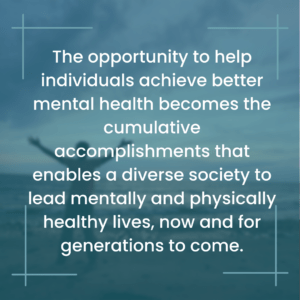 Over the past six years, Healthy Bodies, Healthy Minds (HBHM) has become an integral part of a full range of comprehensive mental and behavioral health services provided by PFCS. Where barriers to access exist (e.g., eligibility, financial, transportation, cultural, language, waiting lists, lack of insurance, family dysfunction), HBHM has been the resource to address service-delivery gaps and provide convenient, affordable access to individuals who would not otherwise receive services.
In partnership with the Fallbrook Regional Health District, HBHM has been instrumental in reducing the disparity in access to professional, culturally competent, mental and behavioral health services in Fallbrook and the neighboring communities including Bonsall, De Luz and Rainbow.
Recent satisfaction surveys of former clients indicate an amazing 100% high satisfaction with services provided by our expert team of therapists.  All survey respondents would highly recommend HBHM and PFCS to family members or friends.
Comments include:
We felt very comfortable and really noticed a big change in our marriage. We learned a lot of different tools to communicate in a heathy way.
They really listen and care about you and work on goals as a team. I gathered beneficial tools for the future.
My counselor responds promptly and is very caring.
Sam is a such a good listener. He facilitated open conversations between my son and me. I really appreciate his attentiveness and the fact that he genuinely cared about my son's progress.
They are very accommodating. I have had a great experience with my therapist, she is very caring, understanding and experienced. 
Patti is awesome.
For more information on Healthy Bodies, Healthy Minds contact our office during regular business at (760) 741-2660.  Our
office is conveniently located at 120 W. Hawthorne in Fallbrook.  We also offer telehealth appointments.