Before the COVID-19 pandemic, mental health challenges were the leading cause of disability and poor life outcomes in young people, with up to 1 in 5 children ages 3 to 17 in the U.S. having a mental, emotional, developmental, or behavioral disorder. The stringent measures we took to mitigate against the COVID-19 virus has had all kinds of unintended consequences. For mental health. For the economy. For our cities. Nearly two years of disruption has taken a toll, worsening mental health, with groups like children, racial and ethnic minorities, and low-income families being hit disproportionally harder.
The amount of trauma that people are experiencing is unprecedented.  In December, U.S. Surgeon General Vivek H. Murthy issued a rare public advisory that outlined concerns of a sharp rise in anxiety and depression amo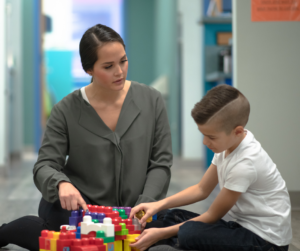 ng young people.  The advisory states: "In the school setting, governments should invest in building a pipeline of counselors, nurses, social workers, and psychologists".
 The CDC issued a report in April outlining how the pandemic has only worsened what already was a growing concern about the mental health of children and adolescents.
The pandemic, according to the CDC survey and mental health care providers, showed just how important it is to keep children connected to schools, peers and other community organizations.
With the generous support of our funders – City of Vista, City of Escondido, Fallbrook Regional Health District, North County COVID-19 Response Fund, and the San Marcos COVID-19 Community Grants – and our partnerships with school districts across North County, our talented team of therapists are working diligently to address the need.