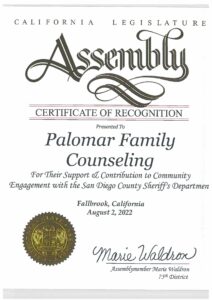 We are honored to receive a Certificate of Recogniton from the California Legistalure Assembly and Assemblymember Marie Waldron of the 75th District. Assemblymember Waldron is known as a strong advocate for patient access to health care, opioid/substance use and mental health treatment. She is a member of the Mental Health caucus, the Prevention Support Team of Mental Health Systems-North Inland Community Prevention Program, and has served on the Assembly Health Committee, the Select Committee on Health Care Delivery & Universal Coverage, and the Select Committee on Infectious Disease in High Risk Communities.
The certificate was awarded in recognition of our support and contribution to community engagement with the San Diego County Sheriff's Department.  Thank you!
Special thanks as well to Heather Mitchell, Crime Prevention Specialist with the San Diego County Sheriff's Department and Brooke Lunquist, Community Health Promotions Specialist with the County of San Diego.  We are honored to work alongside you both.
Finally, bravo to PFCS staff Graciela Moreno for being such an outstanding representative of Palomar Family Counseling Service and our mission.